Archive for the 'VooDoo' Category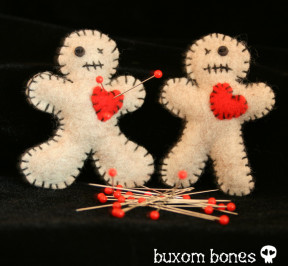 Sep 05
As you know from my bio I've been interested in the bayou and deep south from my childhood reading.  One of my favorite songs that I listened to over and over from from that era was "Marie Laveau" by Dr. Hook.  It got me interested in learning more about Marie, the Witch Queen and the Big Easy.
Several years ago I had the wonderful opportunity to travel to New Orleans for work.  During my time away from work I visited a number of local places and hit all the "tourist trap" voodoo shops.  I was so excited to get to go on one of the cemetery tours.  The morning of the tour of St. Louis Cemetery #1 was dark and rainy, setting the perfect mood for the tour.  I took a ton of photos and as I stood before Marie Laveau's tomb I made my mark as is the tradition.
In honor of my fascination with Marie and her life I've designed a small felt Voodoo doll brooch.  The brooch is so cute and adorable I'm finding it difficult to part with them.  Visit my Etsy shop to see more details about the dollies.
They've been in my sketch book for what seems like forever.  They've been on my workbench in parts and pieces for what seems like ages.  Which of course is appropriate for Zombies, but they've finally got their act together.
The Z O M B I E S are finally here.  Nom-nom…
Check out my newest jewelry – a Zombie End Times Necklace and Keychain, plus some super cool Zombie buttons.  Please drop by and visit my Etsy shop to check out the new Zombie stuff (http://www.etsy.com/shop/BuxomBones?section_id=7708423).  And while you're there check out my other cool Gothic stuff!
[slideshow]