Archive for the 'Zombies' Category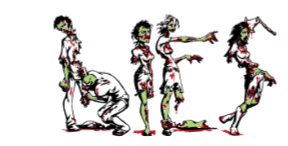 Jun 16
Sometimes you're working on something and you find the absolute coolest thing ever on the interwebz and you realize you MUST share it.  That's how I felt when I found this font.
I will admit I am kinda a font addict and love finding new ones.  If you don't feel the same about fonts that's ok, but I'm guessing once you see this font you'll be as crazy about it as I am.  The font is named Zombie Font and was created by some very talented folks; art director Avery Oldfield, creative technologist Jack Inscoe, and illustrator Amanda Dockery.
You can find this super fun font at zombiefont.com.  Here's an example using the name of my business, Buxom Bones, in the Zombie Font.
They've been in my sketch book for what seems like forever.  They've been on my workbench in parts and pieces for what seems like ages.  Which of course is appropriate for Zombies, but they've finally got their act together.
The Z O M B I E S are finally here.  Nom-nom…
Check out my newest jewelry – a Zombie End Times Necklace and Keychain, plus some super cool Zombie buttons.  Please drop by and visit my Etsy shop to check out the new Zombie stuff (http://www.etsy.com/shop/BuxomBones?section_id=7708423).  And while you're there check out my other cool Gothic stuff!
[slideshow]