Archive for the 'Sugar Skulls' Category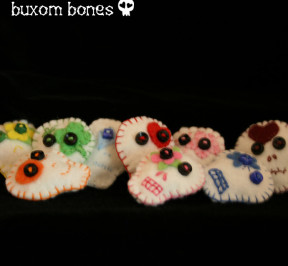 Sep 13
I can't express how excited I am to have the first of these two new collection ready to make their debuts this Saturday at the Fall Red Barn Outdoor Market in Benton, KS.  I've been working like crazy (what's new?) on getting these two new lines ready to go for the fall season and what better time to release them than at my first fall event?
The first new line is a collection of Sugar Skull Brooches.  Each brooch is made entirely by hand and although some may use similar colors or designs each one is completely unique unto itself.  I'm posting a single brooch on my Etsy site today but the rest of the brooches will be making the trip to Benton for your perusal and purchase this weekend.  They are a perfect tiny taste of Halloween and Dia de los Muertos to add to any outfit!
[slideshow]
Stay tuned to learn more tomorrow about the gIRLY gOTH collection!