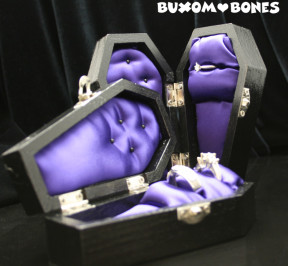 Aug 06
It's true.  Es verdad.
I've happily been shipping my little coffin jewelry boxes all over the world for the past three years.  Today I am very pleased to announce they are now available locally.  The coffin jewelry boxes and a selection of jewelry by Buxom?Bones is now being featured at Dos Fridas right here in Wichita, Kansas.
Dos Fridas is located in the Nomar International District at 21st and Broadway in the extremely cool pie shaped building on the Southeast corner.  It is owned and operated by Lolly Hernandez and offers a wide variety of imports including pottery, wrought iron, tile, folkart, glassware, Dia de los Muertos items, and Sugar Skull classes.   Their mission is to provide a positive and fun experience about Culture, Art and Food.  Visit Dos Fridas facebook page to learn more.