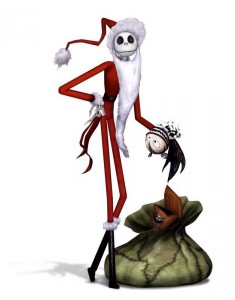 I added an awesome countdown to the site to show how many days are left to "the BIG day".  I can't believe it's already October.  I'm already in love with the cooler weather but I don't even have any decorations out  yet.
I'm feeling a bit like Santa (a.k.a. Jack Skellington) today.  There are coffins to finish and jewelry to make for the shop, all of which all need packaging, labeling and shipping to their awesome new owners.
Plus I need to really be stocking up on inventory for the three big events I have going on this month.  I'm scheduled for two Dia de los Muertos (Day of the Dead) events and the ICT Roller Girls Annual Monster Mashup.  There aren't enough hours in the day!
As I was working on this post I was wishing for my own team of evil minions.  Not a bunch, but at least a few that were good at sanding coffins for all the gruesome little boys and gouls.  And maybe a couple more that would take over all the shipping duties.  But until that happens I guess I better get back to the morgue (studio) and get back to work!
Hugs and kisses from Buxom♥Bones where we believe everyday should be Halloween!
Click here for the "adult" version of this post!