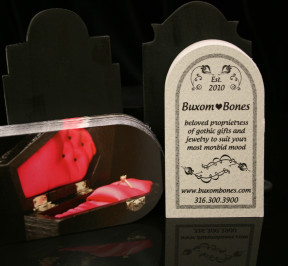 Sep 02
As a craftsperson I'm a big believer in buying local but I'll admit it's getting harder and harder to find a printing company that prints locally. It seems most of them take your order and then place it with some far-away, bigger print shop. It's a fact of life.
Two years ago I ordered some mini cards from an on-line company. I absolutely loved them. The printing company allowed me to upload a selection of my product images and create cards with not just one photo, but with a variety of different photos.
Whenever people inquired about my business or products I could give them a business card that perfectly suited their interest. It was fun and I got a great response not only to my product line but to my cards as well. As I began to prepare for the busy season it was time to place another order, but alas the company I purchased them from has gone out of business.
A bit deflated, I was kind of resigned to either paying a lot more for similar cards or going back to printing them myself. As a consumer who loves alternative products or as a craftsperson taking a regular everyday product and turning it into something a bit alternative I was elated when I found something on-line I couldn't resist.
While working on the design I saw a few companies offering business cards cut into specific shapes. Oh sure, most of them were rectangles, but that's not the shape I'm referring to.
The printing companies refer to the shape I ordered as "half-circle". Basically that means I ordered a card that is a rectangle with rounded corners on one end. What's so special about that? Well in my mind the shape looks just like a gravestone when it's turned on its side.
Bwhahaha. A gravestone shaped business card. What more could I possibly ask for?
All of the sudden my new card design became quite clear in my mind. A tombstone shaped business card for business that makes and sells coffin shaped jewelry boxes – a match made in heaven (yeah, well you know what I mean).
Here's a quick peek at the finished product. I totally love them and hope you will too!